Reasons to buy a rug this winter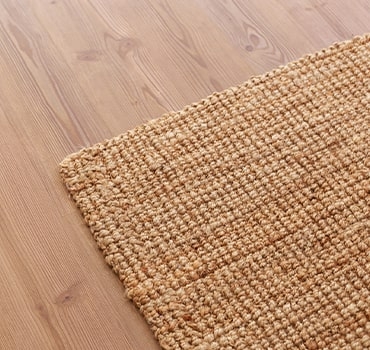 Looking for a stylish and practical way to jazz up your hard floors and add some cosiness into your home? A rug could be the perfect choice!
Here's why:
They're a cost-effective way to create additional warmth
With the days getting colder and the cost of energy rising, many of us are looking for cost-effective ways to inject a little extra warmth into our homes.
You're more likely to feel the chill in rooms with hard floors, but the good news is that rugs are a quick and simple way to add warmth. To create the ultimate cosy and inviting space over the winter months, there's no better option than a lovely, plush rug.
They're versatile and low maintenance
Having carpeted floors isn't right for every home. Some may prefer the appearance of hard floors or simply feel that carpets don't suit their lifestyle. Rugs provide the benefits of carpet – warmth, sound dampening qualities, and softness underfoot – with the bonus of being easy to swap and change.
With this flexibility, you can be free to mix things up to suit the changing seasons – think a lightweight, neutral-toned rug in the summer, then a fluffy, rich-hued rug in the winter.
They complement interior design trends
There are a couple of interior trends currently sweeping the internet and capturing the imaginations of design enthusiasts everywhere.
Coastal grandmother
Inspired by the chic beach houses often featured in Nancy Meyers movies, the coastal grandmother aesthetic features natural tones and chic simplicity. Picture the kind of luxurious beach house you might picture Diane Keaton lounging in with a glass of white wine, and you're pretty much there.
Beach houses typically boast chic hard floors, linen and natural fabrics in neutral shades, and understated, contemporary elegance.
Get the look:
Savannah in taupe

Channel the ocean with the gorgeous Sansa

For a splash of colour, choose Gabbeh

Geometric simplicity

Japandi
Blending Scandinavian functionality and cosy "hygge" vibes with Japanese minimalism and clean lines, the Japandi aesthetic is light, airy, and oh-so-chic. For a home that's modern and welcoming, opt for neutral, earthy colours, and keep your surfaces free from clutter.
Get the look:
Milano in terra

Savannah in grey

Understated warmth with Vista

Explore our range of rugs
To give your home an instant lift, browse our range of stylish rugs or find your nearest store today.